March 27th and 28th Rueil Malmaison Open Shogi Tournament
Par ShogiParis le jeudi, janvier 28 2010, 08:53 - Tournois - Lien permanent
This is an open tournament. Players from all countries and all levels are welcome to participate. The tournament will take place in a dedicated multipurpose room in a "village city hall" of Rueil Malmaison, in the western suburbs of Paris.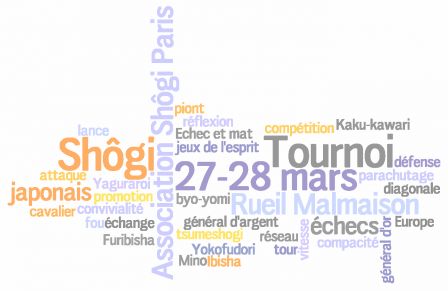 (contact: Nicolas Wiel ; paris.shogi@googlemail.com ; Tel: 06 23 82 65 85), please note:
Name and Surname
Nationality
FESA (European Shogi Federation) Elo level
Grade
French Federation licenced: 5 Euros
Non-Licenced / Foreigners : 7 Euros
12h30-13h00 registration
13h00 round 1
15h00 round 2
17h00 round 3
9h30 round 4
11h30 round 5
13h30 round 6
15h30 price giving
6 rounds of 45 minutes with 30 seconds of byo-yomi.
Swiss or Mac Mahon pairing system.
Handicap games will be allowed. Handicap up to 6 pieces can be freely agreed by the players. If the players don't agree on the handicap to be played, an even game will be played, regardless the difference of rating of the two players.
Multipurpose room – left hand ground floor – local city hall
Mairie de village ; Place du 8 Mai 1945 ; 92500 Rueil-Malmaison
RER A to « Rueil Malmaison » station (heading to St Germain en Laye)
Bus n°244 to « 8 mai 1945 » station (heading to Porte Maillot)

Rueil Malmaison Shogi Tournament - how to get there

CHEYMOL Eric - Fr - 4 Dan - elo 2055
FORTIN Jean - Fr - 1 Dan - elo 1802
POTTIER Frédéric - Fr - 3 Dan - elo 1800
CHRISTOFFERSEN Terje - Nor - 1 Dan - elo 1680
NGUYEN Ahn Tuan - Fr - 2 Kyu - elo 1612
RUIN Gilles - Fr - 4 Kyu - elo 1402
WIEL Nicolas – Fr – 5 Kyu – elo 1247
BRIFFAUD Benjamin - Fr - 8 Kyu - elo 1053
OSMONT Fabien - Fr - 8 Kyu - elo 995
SEMAT Laurent - Fr - 13 Kyu - elo 610
BADAIRE Elien - Fr - NC - elo 551
BADAIRE Gilles - Fr - NC - elo 538
BRIFFAUD Martin - Fr - 18 Kyu - elo 353
BRIFFAUD Annaëlle - Fr - 20 Kyu - elo 226
OSMONT Olwen - Fr - 20 Kyu - elo 174
OSMONT Yann - Fr - NC - elo 148
GAMBIER Christophe - Fr - NC
LAMIRAULT Thomas - Fr - NC
MARKS Andy - Fr - NC
MARKS Edwin - Fr - NC
ROELOFFZEN Erik - Fr - NC