27-28th of November Paris Shogi Open
Par ShogiParis le mercredi, septembre 8 2010, 08:00 - Tournois - Lien permanent
This is an open tournament. Players from all countries and all levels are welcome to participate. The tournament will take place in Rueil Malmaison, in the western suburbs of Paris (22 min subway ride from the very center of Paris).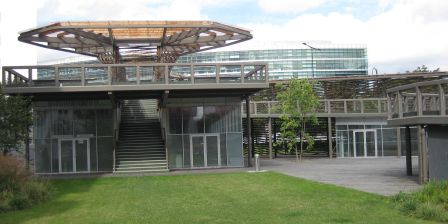 (contact: Nicolas Wiel ; paris.shogi@googlemail.com ; Tel: 06 23 82 65 85), please note:
Name and Surname
Nationality
FESA (European Shogi Federation) Elo level
Grade
French Federation licenced: 10 Euros
Non-Licenced / Foreigners : 12 Euros
12h30-13h00 registration
13h00 round 1
15h00 round 2
17h00 round 3
9h30 round 4
11h30 round 5
13h30 round 6
15h30 price giving
6 rounds of 45 minutes with 30 seconds of byo-yomi.
Swiss or Mac Mahon pairing system.
Handicap games can be agreed betwenn players. If an handicap is granted, the next pairings and the final sorting will be made assuming that the handicap giver has received one point and the handicap receiver 0.
Salle de la Passerelle – 15 rue Henri Becquerel 92500 Rueil Malmaison (450 m away from the RER subway station)
RER A, Rueil Malmaison station (toward St Germain en Laie (22 min train ride from the Chatelet subway Station)
Cheymol Eric - Fr - 4 Dan - 2031
Fortin Jean - Fr - 2 Dan - 1889
Valet Fabrice - Fr - 1 Kyu - 1839
Nguyen Anh Tuan - Fr - 2 Kyu - 1619
Styczyńska Karolina - Pol - 2 kyu - 1609
Levacic Adrien - Fr - NC - 1547
Osmont Fabien - Fr - 6 Kyu - 1174
Briffaud Benjamin - Fr - 7 Kyu - 1132
Mallet François - Fr - 11 Kyu - 766
Roeloffzen Erik - Fr - 15 Kyu - 636
Lamirault Thomas - Fr - NC - 556
Gambier Christophe - Fr - NC - 494
Briffaud Annaëlle - Fr - 16 Kyu - 393
Briffaud Martin - Fr - 16 Kyu - 379
Longdelugo Clyde - Fr - NC - 1*
Schneider Jean-François - Fr - NC - NC
Torakio Chaoul - Fr - NC - NC
Verdier Philippe - Fr - NC - NC